Chorvatsko 2015 - den osmý - odjezd a konečně Plitvická jezera (12.9.2015)
A přinášíme poslední fotky z úžasné dovolené, ze které jsme právě dorazily konečně domů. Tentokrát jsme si nenechali ujít Plitvická jezera, a tak se najednou stalo, že dnes jsme dorazili vlastně zítra. Guláš v tom má hlavně Daníček, který se dnes/včera v autě ptal, jestli "příští čtvrtek už byl" - smíchy jsem se málem neudržela na silnici. :-D Holčičky už se rozvaluji v pelíšku, takže přejeme všem dobrou noc/dobré ráno, jdeme spinkat až do zítřka/dneška. :-D PS: na závěr příběh Bailinčina ocásku :-D :-D :-D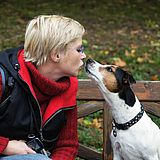 Chorvatsko 2015 - den osmý - odjezd a konečně Plitvická jezera (12.9.2015)
Content will continue after the ad
Continue below for more content
Delete photos and videos from the album
Select all photos or videos you want to delete and confirm the action.
Title
Chorvatsko 2015 - den osmý - odjezd a konečně Plitvická jezera (12.9.2015)
Description
A přinášíme poslední fotky z úžasné dovolené, ze které jsme právě dorazily konečně domů. Tentokrát jsme si nenechali ujít Plitvická jezera, a tak se najednou stalo, že dnes jsme dorazili vlastně zítra. Guláš v tom má hlavně Daníček, který se dnes/včera v autě ptal, jestli "příští čtvrtek už byl" - smíchy jsem se málem neudržela na silnici. :-D Holčičky už se rozvaluji v pelíšku, takže přejeme všem dobrou noc/dobré ráno, jdeme spinkat až do zítřka/dneška. :-D PS: na závěr příběh Bailinčina ocásku :-D :-D :-D
Settings
Public album
Anyone can see the album.
Available only for 18+
Only people who have confirmed their coming of age can see the album with 18+ content.
Hidden album
Only people who know the exact address of the album can see that.
Locked album
Only people who enter the code you set can see the album.
Create photo gifts
From albums and photos on Rajče or even from a computer disk; you can easily and quickly create various photo gifts for yourself or your friends.